The Phoenix 5000 is the first monochromator NIR instrument designed to meet the demands of modern forage labs.
​
The Phoenix 5000 enables labs and nutritionists to analyze hundreds of forage samples each day. Each analysis takes 30 seconds or less and provides multiple parameters for each sample.
For labs that could benefit from automating the testing process, the Phoenix 5000 can be configured with a 30 position auto sampler. (see below)
Results are displayed in 30 seconds or less and can be exported into a variety of formats including, excel, LIMS and PLC.
​
Multiple database options are available including the options to transfer from a legacy instrument or use a database licensed from one our our partners: the Forage Consortium, Dairyland and Rock River. See below for more information.
​
Dry Matter
Crude Protein
Crude Fiber
Calcium
Phosphorous
Energy
and more
The Phoenix 5000 delivers the best in reliability, precision, and accuracy by utilizing a scanning monochromator, the most trusted NIR tecnology for producing consistent products.
The Phoenix 5000's software utilizes color coded buttons and tabs to allow operators to learn and use the instrument easily.
Operators can export results to Excel, LIMS, or modbus. Custom reports can be designed to generate COA's directly on the Phoenix 5000.
Designed for Transferability
The Phoenix 5000 has configurable wavelength resolutions of 0.5, 1 and 2 nm. This allows us to transfer customer legacy databases from other NIR instruments to the Phoenix 5000 in minutes.
Every Phoenix 5000 instrument is manufactured at our company headquarters in Jessup, MD.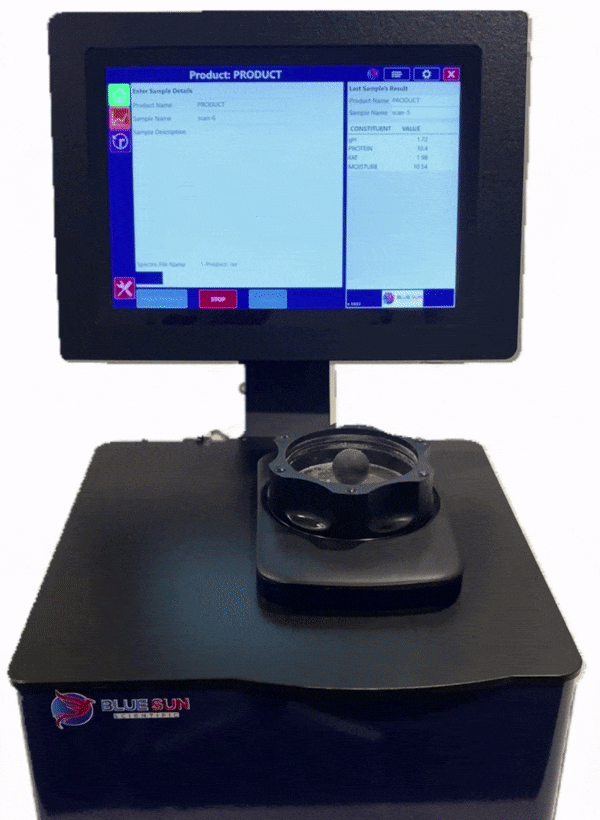 The Phoenix 5000 employs the only sample handling system that scans more than 90% of the sample within the sample cup.
​
Other NIR systems only rotate the cup and scan less than 20% of the sample.
​
The Phoenix 5000's advanced sampling system is able to move the sample cup both laterally and rotate it, increasing the scan area to more than 90%, improving accuracty, repeatability and precision.
Other NIR Instruments' Scan Area
The Phoenix 5000 offers the most flexible calibration options of any NIR instrument. You can utilize a calibration provided by one of our many partners listed below, transfer a database you previously developed on a legacy NIR platform, or work with our expert calibration staff to develop your own using calibration software we provide.
Transfer
a Legacy
Database
Develop
Your Own
Database
The Phoenix 5000 can be configured with a 30 position autosampler to streamline testing and reduce operator time.
​
Sample cups can be scanned in with an RFID reader. The instruments reads them before scanning records and manages the results.
The Phoenix 5000 is powered by BlueScan. BlueScan is designed to simplify routine analysis and is packed with features making it ideal for monitoring quality and optimizing production.
BlueScan's tab design ensures your information is just a click away. You can easily view results, historical data, spectra, generate reports and run diagnostics with the press of a button.
​
Users can be set up with varying levels of permissions to protect company data and ensure ease of use.
​
Every Instrument is Guaranteed.
Every Blue Sun instrument comes standard with the Blue Sun Guarantee.
This one of a kind service and support program ensures you start up quickly avoid downtime, and maximize the benefits of your instrument.
The Blue Sun Guarantee includes free:
Calibration
Development
(1 Year)
Warranty
on Parts
(1 Year)
If you would like more inforamtion on the Phoenix 5000 instrument or if you have questions about a specific application, please fill out the form below and a solutions manager will reply to you shortly.