The Phoenix 5000 Pet Food Analyzer offers pet food manufacturers fast, at-line and lab analysis to optimize production, minimize costs, improve safety and ensure they meets label requirements.
30 Second Analysis for: Moisture, Protein, Fat, Fiber, Starch, & Ash
​
Pet food manufacturers use this information to:
​
Control moisture and quality for incoming ingredients

Test raw materials to optimize meal formulation

Improve safety by identifying microingredients

Verify quality of bin bottoms

Monitor moisture and fat in extruders and dryers

Produce a consistent product.

Ensure final product matches label requirements.
Most samples can be analyzed with little to no preparation. The software is simple and intuitive and may be operated by anyone in the facility.
​
The Phoenix 5000 delivers the best in reliability, precision, and accuracy by utilizing a scanning monochromator, the most trusted NIR tecnology for producing consistent products.
The Phoenix 5000's software utilizes color coded buttons and tabs to allow operators to learn and use the instrument easily.
Operators can export results to Excel, LIMS, or modbus. Custom reports can be designed to generate COA's directly on the Phoenix 5000.
Designed for Transferability
The Phoenix 5000 has configurable wavelength resolutions of 0.5, 1 and 2 nm. This allows us to transfer customer legacy databases from other NIR instruments to the Phoenix 5000 in minutes.
Every Phoenix 5000 instrument is manufactured at our company headquarters in Jessup, MD.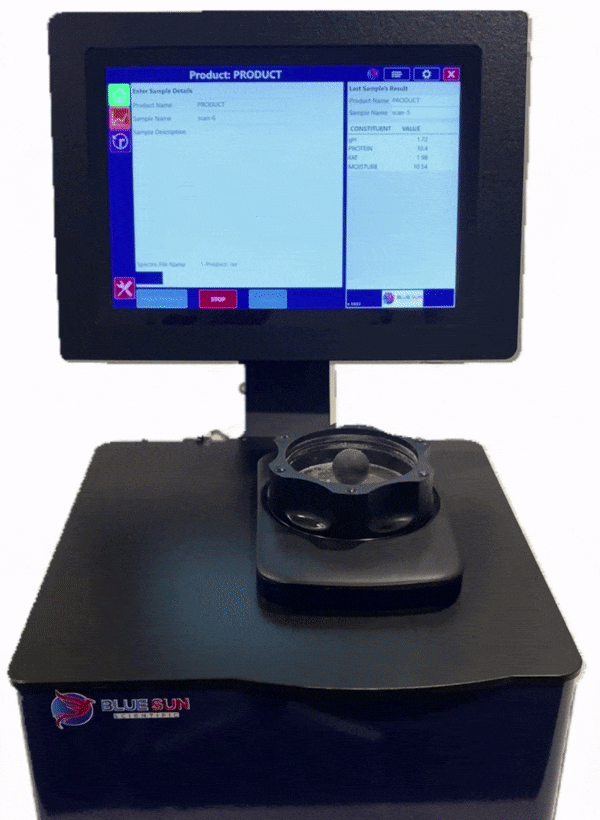 The Phoenix 5000 employs the only sample handling system that scans more than 90% of the sample within the sample cup.
​
Other NIR systems only rotate the cup and scan less than 20% of the sample.
​
The Phoenix 5000's advanced sampling system is able to move the sample cup both laterally and rotate it, increasing the scan area to more than 90%, improving accuracty, repeatability and precision.
Other NIR Instruments' Scan Area
Optimizing Production with NIR
Test that they are within specifications - claims program; Use H value to screen for adulterations; Confirm micro-ingredients (white powders);
The Phoenix 5000's innovative sample handling ensure you scan more than 90% of the sample cup, compare to 25% with other NIR instruments.
Verify all levels before fat coating
Verify your levels are where they should be before they continue through the process
Confirm moisture and adjust to optimize
Confirm that fat coating is within spec
The Phoenix 5000 is powered by BlueScan. BlueScan is designed to simplify routine analysis and is packed with features making it ideal for monitoring quality and optimizing production.
BlueScan's tab design ensures your information is just a click away. You can easily view results, historical data, spectra, generate reports and run diagnostics with the press of a button.
​
Users can be set up with varying levels of permissions to protect company data and ensure ease of use.
The Phoenix 5000 Pet Food Analyzer provides a rapid payback for pet food manufacturers.
In most instances the instrument pays for itself in 4-8 months.
​
These savings fall into three categories:
​
Savings on wet chemistry/lab analysis

Claims on ingredients

Optimizing production levels of moisture, fat and protein
​
This form walks you through the expected cost saving from optimizing moisture in your production.
By controlling moisture throughout production and in finished product, a significant cost savings can be seen by producing a finished product that is just 1% closer to the spec'd requirement.
Similar calculations can be performed for fat and protein as well.
​
Blue Sun Application experts can develop a custom ROI report and implementation plan. Please fill out the form below for more information.
​
​
Every Instrument is Guaranteed.
Every Blue Sun instrument comes standard with the Blue Sun Guarantee.
This one of a kind service and support program ensures you start up quickly avoid downtime, and maximize the benefits of your instrument.
The Blue Sun Guarantee includes free:
Calibration
Development
(1 Year)
Warranty
on Parts
(1 Year)
If you would like more inforamtion on the Phoenix 5000 instrument or if you have questions about a specific application, please fill out the form below and a solutions manager will reply to you shortly.