University Partnership
We value our university partners' drive to innovate and improve our understanding of the many complex systems all around us.
Many of our own innovations have been inspired by partnerships with universities which have resulted in new cutting edge applicaations and technologies.
We have experience partnering with universities and research institutes to help address many of the common challenges they face in their labs and research. For them, wcustomizable program to facilitate student excellence with lab instrumentation.
NIR
The Phoenix 6000 NIR Forage analyzers offers an extended wavelength range which is ideal for research and new applications. It is available as both a top window or can be configured with an autosampler. This highly accurate and reliable instrument can provide results in 30 seconds without dangerous or costly reagents.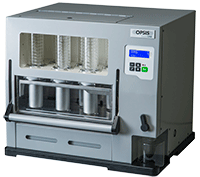 Proximate Analysis
Blue Sun Scientific is the exclusive North American distributor of Opsis Liquidline SoxRoc and KjelRoc analyzers. These automated soxhlet and kjeldahl instruments are based on long trusted primary methods for protein and fat analysis.
Wet Chemistry
Universities involved in nutrient research and monitoring can benefit from our complete line of environmental analyzers.
​
The EasyChem 200 and the smaller EasyChem Jr. are discrete analyzer which can be programmed to run up to 14 chemistries on water and soil samples. Students can be trained in basic operation in under an hour and trusted to operate the instrument independently.
​
​
The Wiz Probe is an EPA award winning analyzer for the in-situ monitoring of Nitrogen and Phosphorous. It can be deployed in surface and seawater locations where it will run tests and wireless transmit results to an online portal.
​
​