Soybean Industry
Blue Sun Scientific is proud to present its complete line of soybean analyzers, which are ideal for soybean processors. We offer both NIR and traditional primary analysis.
The Phoenix 2500 is a monochromator based NIR analyzer that can deliver information on moisture, fat and protein in 30 seconds.
​
The SoxROC and KjelROC automate the long trusted Kjeldahl and Soxhlet methods for protein and fat analysis.
​
The Eagle is our new, state-of-the-art, portable whole grain analyzer.
NIR
The Phoenix 2500 NIR Soybean analyzer can analyze both liquid and solid samples. It can analyze for moisture, protein, and oil. This highly accurate and reliable instrument can provide near instant results for soybean before during and after processing.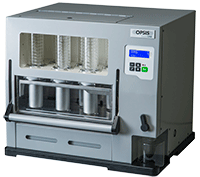 Proximate Analysis
Blue Sun Scientific is the exclusive North American distributor of Opsis Liquidline SoxRoc and KjelRoc analyzers. These automated soxhlet and kjeldahl instruments are based on long trusted primary methods for protein and fat analysis.
Whole Grain
The Eagle Whole Grain Analyzer is a transmission-NIR based instrument. It can provide rapid analysis of whole grains including, soybean, wheat, barley and corn.
​
This rapid analyzer for protein and moisture is lightweight (25 lbs.) and can easily be transported between sites.
​