Pet Food Industry
Blue Sun Scientific offers NIR and Proximate solutions custom tailored to the pet food industry.
Our Phoenix 5000 NIR Analyzer can test incoming ingredients, in process product and finished product. This highly accurate instrument ensures a quality and consistent product while helping you save money and meet product specifications.
​
Our Proximate analyzer lines provide primary analysis for protein and fat. They are based on primary methods that have been relied on for decades.
NIR
The Phoenix 5000 NIR Pet food analyzer can analyze moisture, protein fat, fiber and ash for product at all stages of production. This highly accurate and reliable instrument can provide results in 30 seconds and can be used both at-line and in the lab.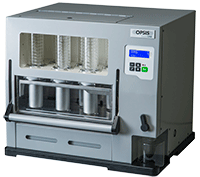 Proximate Analysis
Blue Sun Scientific is the official North American distributor of Opsis Liquidline SoxRoc and KjelRoc analyzers. These automated soxhlet and kjeldahl instruments are based on long trusted primary methods for protein and fat analysis.
​