Meat Industry
Blue Sun Scientific is proud to present its complete line of meat analyzers, which are ideal for meat processors.
We offer both NIR and traditional primary analysis. The Phoenix 5000 is a monochromator based NIR analyzer that can deliver information on moisture, fat and protein in 30 seconds.
​
The SoxROC and KjelROC automate the long trusted Kjeldahl and Soxhlet methods for protein and fat analysis.
​
The FlowSys utilitizes traditional wet chemistry methods for the analayis of nitrites and nitrates. For operators that have relied on the now discontinued FIAStar. The FlowSys employs the same methods and technology.
NIR
The Phoenix 5000 NIR Meat analyzer was designed with the needs of meat processers in mind. It offers simultaneous analysis of moisture, protein and fat in 30 seconds.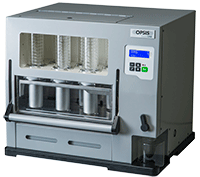 Proximate Analysis
Blue Sun Scientific is the exclusive North American distributor of Opsis Liquidline SoxRoc and KjelRoc analyzers. These automated soxhlet and kjeldahl instruments are based on long trusted primary methods for protein and fat analysis.
Wet Chemistry
Many meat processors need to monitor nitrate levels in their product. They have historically relied on the FIAStar to do so.
The FlowSYS, continuous flow analyzers, mirrors the method and technology of the FIAStar on a platform that will be supported for many years to come.
​