Forage Industry
Blue Sun Scientific is proud to present it's complete line of agricultural analyzers, which are ideal for forage labs and universities.
​
Our custom solutions can help automate a large part of the testing process while reducing lab costs and minimizing operator times.
We also have automaded wet chemistry analyzers for nutrient analysis in soil, fertilizers and plant tissue.
NIR
The Phoenix 5000 NIR Forage analyzers was designed with the needs of forage labs in mind. It is available as both a top window or can be configured with an autosampler. This highly accurate and reliable instrument can provide near instant results for most forages.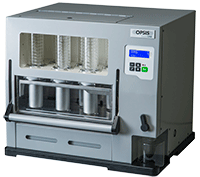 Proximate Analysis
Blue Sun Scientific is the exclusive North American distributor of Opsis Liquidline SoxRoc and KjelRoc analyzers. These automated soxhlet and kjeldahl instruments are based on long trusted primary methods for protein and fat analysis.
Wet Chemistry
Many labs process hundreds to thousands of soil samples every year. Traditionally this was done by flow analysis, but the EasyChem 200 discrete analyzer offers many benefits compared to these older analyzers.
The EasyChem 200 can perform up to 14 chemistries on each sample while reducing consumable costs and operator time.
​