Blue Sun Scientific is proud to present its complete line of dairy analyzers, which are ideal for dairy processors. Our solutions can test for protein, total solids, fat, nitrates, urea and more.
These instruments can help optimize production, screen incoming ingredients, and ensure a high quality consistent product.
​​
Phoenix 5000 NIR Analyzer
The Phoenix 5000 NIR Dairy analyzer can test solids/moisture, protein and fat in most dairy products. This highly accurate and reliable instrument can provide near instant results to help optimize production.
​
​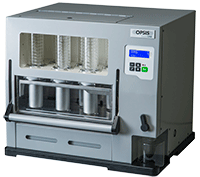 Proximate Analysis
Blue Sun Scientific is the exclusive North American distributor of Opsis Liquidline SoxRoc and KjelRoc analyzers. These automated soxhlet and kjeldahl instruments are based on long trusted primary methods for protein and fat analysis.
​
​
FlowSys CFA Analyzer
The FlowSys, continuous flow analyzer, offers an upgraded primary analysis using the same methods the FOSS Fiastar used.
​